Editors:  Jennifer Shaw
University of New England,
Australia

Joseph Auner
Tufts University, Massachusetts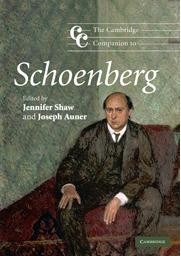 Arnold Schoenberg – composer, theorist, teacher, painter, and one of the most important and controversial figures in twentieth-century music. This Companion presents engaging essays by leading scholars on Schoenberg's central works, writings, and ideas over his long life in Vienna, Berlin, and Los Angeles. Challenging monolithic views of the composer as an isolated elitist, the volume demonstrates that what has kept Schoenberg and his music interesting and provocative was his profound engagement with the musical traditions he inherited and transformed, with the broad range of musical and artistic developments during his lifetime he critiqued and incorporated, and with the fundamental cultural, social, and political disruptions through which he lived. The book provides introductions to Schoenberg's most important works, and to his groundbreaking innovations including his twelve-tone compositions. Chapters also examine Schoenberg's lasting influence on other composers and writers over the last century.
Contributors
Jennifer Shaw, Joseph Auner, Walter Frisch, Michael Cherlin, Robert P. Morgan, Craig De Wilde, Elizabeth Keathley, Ethan Haimo, Julian Johnson, Richard Kurth, Joy H. Calico, Peter Tregear, Steven J. Cahn, Severine Neff, Walter B. Bailey, Sabine Feisst, Richard Toop
Additional information at: cambridge.org